Fringe, bangs, whatever you want to call it, virtually every woman has flirted with the idea of having one at some point. And why not? It's a great way to freshen up your cut without loosing length.
There are those women who seem to have been born to have a fringe, like Zooey Deschanel's trademark eye-scraper. Seriously, it suits her so much, that she is virtually unrecognisable sans fringe. But for the rest of us mere mortals, with varying hair textures, a fringe can be a tenuous line between love and hate!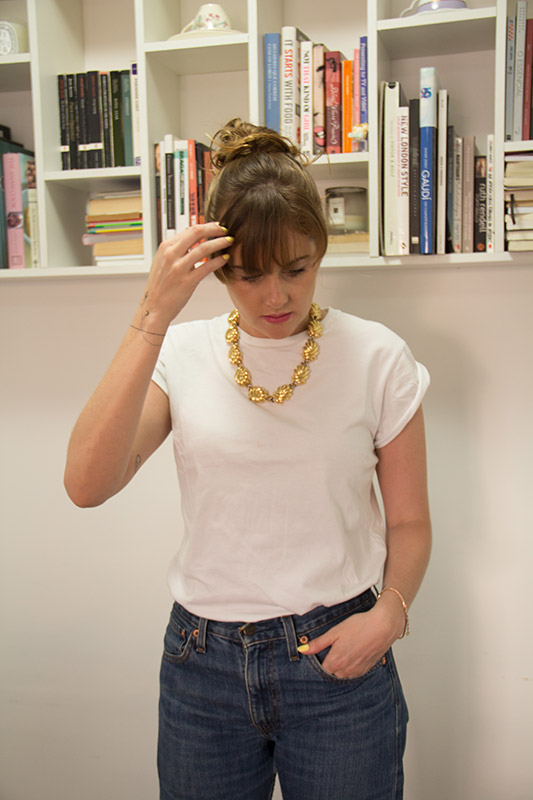 Last time I got a fringe I was so happy with it! I declared my undying love for fringes and promised myself that I would keep it forever. I even learnt how to give myself a home trim and was happy. For a while…
Whoever has or has had a fringe knows; it takes work, especially if you don't have naturally straight hair. My hair is relatively straight apart from a rebellious area, you guessed it, right around my hairline aka fringe territory. 😣 I normally get the front section of my hair straightened and this is a God send when it comes to fringe styling. However, I had been trying to cut down on the chemicals and trying only to use natural products to care for my hair. So that meant, bye bye straight fringe.
All good things must come to an end: I woke up one day with the urge to let my fringe grow out, but abandoning fringe life is not an easy task. It needs to be at least nose length to incorporate into a new hairstyle.
Let the patience test begin:
5 tips to grow out your fringe gracefully

1. SIDE ON:
When it reaches eye length, it's time to brush it to the side! Whoever has had a longer fringe, knows that it doesn't take long to reach tucking behind the ear length. Stick with it!
2. ACCESSORIES:
Use clips, hairpins and Alice bands to sweep the hair of your face and secure unruly bangs. Bit by bit your fringe will blend in with the rest of your hair and bother you less.
3. GET QUIFFY:
On the same note as tip 2, use Kirby grips to make a little quiff. Quiffs of varying height (no one is asking you to go full on Amy W) are really simple to do and suit virtually everyone.
4. SMOOTH IT DOWN:
A little bit of product can go a long way! Finishing products like sprays, pomades and gels help keep your fringe in it's place; for a more natural approach, use a teeny bit of coconut oil in place of your usual product.
5. TURBANS AND SCARVES ARE YOUR FRIENDS:
Take advantage of this period to dive head first (pun intended) to the world of turbans and head scarves. They are perfect for hiding awkward hair stages and a whole lot of fun!
Did you like the ideas? Leave me a comment if you have any extra fringe growing tips that I missed!