As most of you know, I am a big time vintage and thrift store fan. Aside from the sustainability angle, there is something so exciting about hunting through rails of vintage looking for that perfect find.
In today's Fast Fashion age, things just aren't made like they used to be. Cheap fabrics and shoddy zips can make clothes and accessories seem almost disposable. We are not taking care of things the way we used to and there is little information given about the correct way to clean and store our positions, other than the obligatory washing symbols on our labels. But with a little bit of care and attention, we can maintain and prolong the life of our possessions.
Remember that vintage pieces have already been through a lot more stress than other items in our wardrobes, or new items that we buy in shops. I have a collection of vintage bags that I love and most of them have already been with me for a good number of years! During a routine sort out, I started to feel guilty for not taking proper care of my beloved vintage bags. A big part of being sustainable is learning to take care of things that we already own.
I did some research and put together some tips for caring for your vintage shoes and bags. I hope you enjoy!
Leather bags
The majority of vintage handbags have already been through a lot, poor things! Stuffed in the back of dusty shelves, crushed at the bottom of cardboard boxes, damp garden sheds, you name it. They often reach our arms in need of TLC, but you'll be surprised how a good cleanse and moisturise can work wonders for our leather goods! As a rule of thumb, all leather bags and shoes need to be hydrated twice a year. The idea is to keep the leather soft and avoid cracks.
Wipe the dirt off your bag, with a clean damp cloth. Next wipe again with a small amount of cleaning product. You can use a store-bought leather bag cleaner, which often comes in a kit with cloths. You can also make your own by mixing a few drops of a mild soap (such as coconut soap or baby soap) with distilled water. It is normal that a little bit of the dye will be removed in this process, so be gentle and keep an eye out for any major colour changes. Wipe all product off with a clean damp cloth, then rub dry with a clean dry cloth.
Apply some leather moisturiser to the bag once it is dry. Use a soft cloth to apply the moisturiser. Rub the moisturiser on using circular motions. The moisturiser will help keep the leather soft and supple. Do not substitute regular hand lotion, which can ruin leather.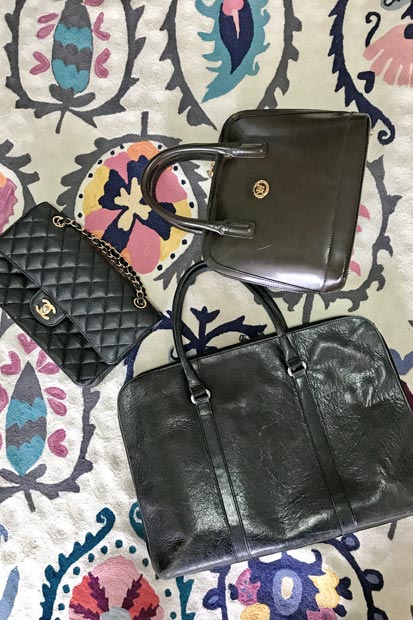 Storing bags
Now that everything is clean, dry and moisturised, the next step is storage. The most important part of the process is choosing the storage location, which must be dry and out of the sun. Patent leather bags must but stored upright and not touching other bags, as they crumple easily. Whatever you do, do not store in plastic, the majority of fabrics and leathers need to breath. If you want to wrap with something, use a cotton t-shirt to keep dust at bay. A sachet of bicarbonate of soda is a super hack for keeping any smells at bay. Another tip is to fill bags with old scarves to help keep maintain their shape.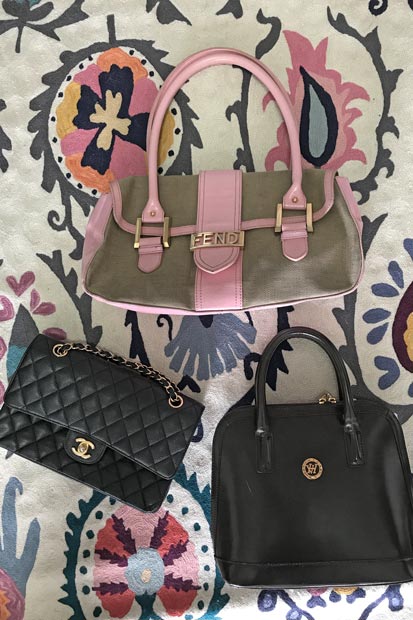 Shoes
Vintage shoes are even harder to take care of then vintage bags, in my opinion! Carefully clean with a cloth and soft brush. Keep on top of heel and sole repairs and once you find a cobbler that knows how to treat vintage shoes, never let them go! Make sure you air your shoes out after use and don't put them away humid.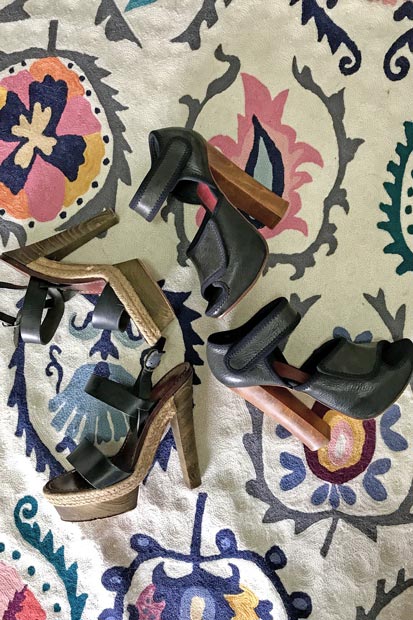 Storing shoes
I an ideal world, we would store our shoes in their original box with a Polaroid of the shoe stuck to the box, but shoes in boxes are space hoggers! Even without boxes, it is important not to let the shoes bash against each other, to avoid scuffs and scratches. Shoes are more delicate than they look and they require special care to help them last. Shoe horns and newspaper can help keep your shoes in good shape and make sure you remove the dust regularly.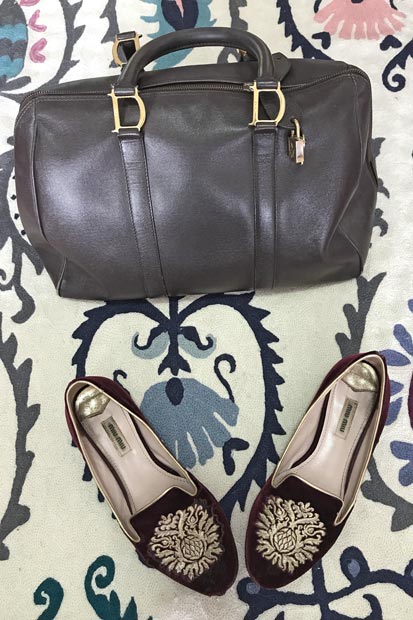 It's simple at the end of the day, the better you take care of your vintage pieces, the more wear you will get out of them!
If you have any tips that I have missed, make sure you tell me in the comments!